coronavirus scams to watch out for
WARNING. 20+ coronavirus scams to watch out for and how to protect yourself
The coronavirus pandemic has often brought out the very best in people and society – but upsettingly, it's also brought criminals and lowlifes out of the shadows to prey on our pockets. Action Fraud has reported that £4.6 million has been lost to coronavirus-related scams since lockdown started.
As the UK health crisis looks set to continue for some time, there are horrid criminals looking to exploit financial and health concerns by asking for money for fake services upfront, collecting personal information or bank details, or offering temptingly high returns on made-up investments or pension transfers.
To help you stay safe, we're sharing our top tips to protect yourself from scams (lower down this page), but first we've a rundown of some of the most vile and convincing ones to watch out for, including awful scams involving Martin, text message scams, email scams, online shopping scams, door-to-door scams, telephone scams and other financial scams to avoid. There are even scammers pretending to be from NHS Test & Trace.
20+ scams to watch out for right now
Fake 'Martin Lewis' ads and emails
A quick warning before we run through all the coronavirus-related scams. We've previously warned about criminals using Martin's name and face in online adverts to draw you into 'get rich quick' schemes promising big money, fast (all fake of course).
Sadly, we're seeing a new wave of these upsetting ads, as scammers look to exploit Martin's hard-earned trust at this time, and their tactics have gotten even more insidious.
Ads appearing on genuine websites (including national online newspapers) horrifyingly suggest Martin has died. The shock factor is intended to make you click through to a sophisticated investment scam. DO NOT CLICK ON THE AD, but please help to take them down if you can, by reporting any you see.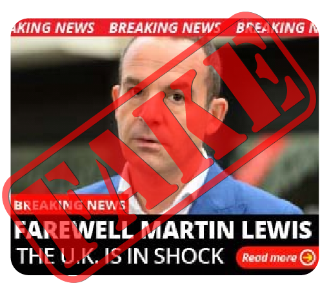 And these aren't the only bad ads. We've seen a wave of ads leading to fake 'life insurance' providers, supposedly bearing Martin's endorsement. We've also had reports of emails claiming to be from 'Martin Lewis' which rave about a home-based Bitcoin opportunity. If you see one of these, or any other suspicious email, forward them to report@phishing.gov.uk.
To be clear, neither Martin nor MSE ever take part in advertising – they are all completely fake. So if you see ads like this, just remember Martin's picture on his social media…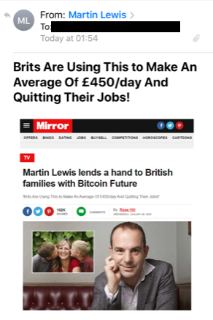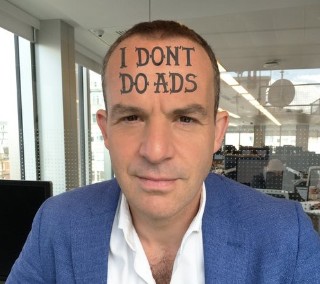 Fake 'test and trace' scams
The Government has now announced its NHS Test and Trace service, which aims to give advice to people who may have been in contact with someone who then tests positive for coronavirus. But as with any development in this pandemic, appallingly scammers are using it as another opportunity to steal your personal information and, in turn, your money. We've seen a range of Trading Standards offices warning about these scams – which can come to you via phone, text or email.
The NHS says that official Test and Trace texts willcome from the NHS, and calls willcome from 0300 0135000. Contact tracers will ask for your full name, date of birth and postcode, and will offer you advice if you have come into contact with somebody who has coronavirus symptoms. They will not:
Ask for bank details or payments
Ask for details of any other accounts, such as social media
Ask you to set up a password or PIN number over the phone
Ask you to call a premium rate number, such as those starting 09 or 087
Ask you to download anything or access a non-NHS or Government site
If it's genuine, you'll be asked to sign in to the NHS Test and Trace contact tracing website. You will have been given an account ID to sign up. If you are under 18, contact tracers will get in touch by phone if possible and ask for a parent or guardian's permission to continue the call. Those who do not have internet access or who don't complete the online process will be contacted by phone.
If you aren't sure if a call, text or email is a scam, or if you want to be extra cautious, do not click the link you are sent and instead visit the website above independently.
Text message scams
Mobile text messaging scams tend to include a link to a fake, but very convincing, website designed to trick you into submitting personal information such as bank details, a password or a credit card number.
Fake texts claiming to be from 'the Government'
Banking industry body UK Finance and communications regulator Ofcom are warning of scam texts from criminals claiming to be from official Government sources, issuing you a fake 'relief' payout or a fine for leaving your home. Of course, neither of these are genuine, so ignore and delete them. Don't be tempted to click links.
UK Finance says criminals are also using a technique called 'spoofing', which can make a message appear in a chain of texts alongside previous genuine messages from that organisation.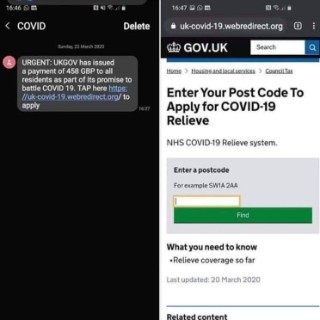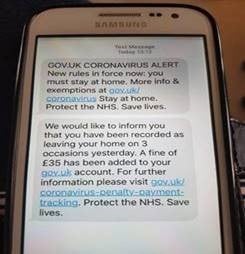 Email scams
Action Fraud has warned about the most common scams it is seeing via email, known as 'phishing' scams. Again, these are often very convincing – so be on your guard and question anything that seems too good to be true.
To make policing these scams even easier, the National Cyber Security Centre (part of GCHQ) has set up a Suspicious Email Reporting Service. All you have to do is forward dodgy emails to report@phishing.gov.uk. If you have a hunch it might be a scam, report it and help them to act quickly.
Fake requests for payment to access Covid-19 info
These claim to be from research organisations affiliated with the Centers for Disease Control and Prevention (CDC) and the World Health Organisation (WHO). They may say they can provide the recipient with a list of coronavirus-infected people in their area. In order to access this information, you'll be told to click on a link, which leads to a malicious website, and you'll be asked to make a payment or 'donation' in cash or Bitcoin.
Here's an example of these emails:

Fraudulent articles and coronavirus alert services
These include a link to a fake company website where you may be encouraged to subscribe to a daily newsletter. We've also heard of similar fake notification apps – in reality, they're what is known as 'ransomware' – that can infect your phone and block it completely until you agree to pay a specified amount of cash.
Fraudsters sending investment and trading 'advice'
These encourage you to take advantage of the coronavirus downturn by making new investments that are in fact not genuine and can result in huge financial losses – so of course they're to be avoided at all costs.
Fake 'HMRC' tax refunds or demands for tax payment
These emails direct you to a fake website that collects your personal and financial details, often displaying the HMRC or Gov.uk logo (so they can seem very legit). They've also been reported to offer council tax refunds.
Here's some examples of these emails:

Scam 'competitions' and 'free vouchers'
Another common scam – even before the pandemic – is bogus emails offering a 'free voucher' or a fake competition, which usually claim to be from well-known supermarkets and household brands. Disgracefully, they've now started to use the term 'Covid-19' to draw victims in. These scammers say they are giving you the chance to win free shopping with online vouchers, but in reality they want to steal your personal information.
Fake 'TV licence' bills and other subscriptions
Similar to the HMRC scams, we've seen recent examples of emails – not necessarily relating to coronavirus – claiming to be about unpaid bills, Netflix subscriptions, Amazon Prime accounts or TV licences.
Action Fraud says it's had over 200 reports of one particularly nasty version of a TV licensing scam, which claims that the recipient's direct debit has failed and that they need to pay to avoid prosecution. Recipients are told that they are eligible for a "COVID19 Personalized Offer" of six months free. The messages contain links to genuine-looking websites that are designed to steal personal and financial information.
If you aren't sure if an email you've received about your TV licence is genuine, do not click links in the email. Instead, independently get in touch with TV Licensing through its official website. Alternatively, you can use its contact form or call 0300 790 6130.
Online shopping scams
Action Fraud says the majority of reports it's received are related to online shopping scams, where people have ordered protective face masks, hand sanitiser and other products, which never arrived.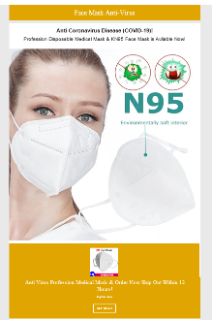 Potentially unsafe products for sale online
Even if something ordered does arrive, National Trading Standards warns products can often be dangerous and unsafe. For example, there are reports of potentially harmful hand sanitiser containing glutaral (or glutaraldehyde), which was banned from human use in 2014.
The simplest thing to do is to only buy what you really need from credible retailers who have a presence in the UK.
Popular 'lockdown items' for sale that don't exist
While many of us have been at home, on furlough or working from home, the search for popular 'lockdown items' has led to more shocking scams. According to Action Fraud, more than £16m has been lost to online shopping scams during lockdown, with people aged 18-26 most at risk. Many have paid for something that doesn't exist, or never arrives. Here are just some of the most common ones being reported…
Fake pet-buying sites
Action Fraud reported more than £200,000 was lost in 'pet-purchase' scams in March and April. This is where scammers advertise puppies or kittens for sale which in reality don't exist. They often demand an upfront deposit payment too.
It's claimed they use lockdown restrictions as a reason why the purchaser can't see the parent animal or the pet itself first, and sometimes they even follow up with requests for more money to cover insurance, vaccinations and even delivery of the puppy or kitten.
Action Fraud advises you to do your research and look up reviews of any site you're using to buy. Ask to see the animal in person or via video chat, and for extra protection, use a credit card for any payments so you're covered by Section 75 rights.
Important. An RSPCA spokesperson has said: "We'd urge anyone thinking of getting a new pet to think long and hard about whether they can properly care for that animal, not just now but into the future when restrictions are lifted and their lifestyles become more busy. If people do decide now is the right time to get a pet, then we'd always urge them to consider adopting instead of buying an animal. We still have thousands of animals in our care at the moment and have restarted rehoming some animals in England with strict measures to keep our staff and the public safe."
For more on how to safely buy or adopt a pup, read our Moneysaving for Dog Owners guide.
Nintendo Switches, hot tubs and cars
Natwest Bank says its customers have reported more fake Nintendo Switch scams in May than anything else, as many have been on furlough or have children still at home during the pandemic. Nintendo Switches sold out worldwide during the lockdown, likely prompting people to search on non-mainstream sites in a bid to get their hands on the tech.
Similarly, the bank reported a five-fold increase in hot tub scams in May as hot weather arrived and people stuck at home were wanting new creature comforts.
We've also seen reports of other items being offered for sale by scammers on the likes of eBay, Facebook, Gumtree and depop, including:
Mobile phones
Vehicles
Laptops and MacBooks
Footwear
Pauline Smith, Head of Action Fraud, said of these scams: "It's important to shop on sites you know and trust. If you're using a site you've not used before, do your research and check reviews before making a purchase. Always be wary of emails, texts and social media posts that offer products for considerably less than their normal price – this is a common tactic used by criminals. Where possible, use a credit card to make online purchases as this will offer you more protection if anything goes wrong."
We'd like to add that you should trust your gut; if something doesn't feel right, or the price of a sold-out gadget sounds too good to be true, it probably is.
Post-lockdown travel traps
While lockdown is gradually easing, unfortunately, scammers' cruel tactics are not. Many scams are now targeting the things many have been missing most while the country's been in lockdown… holidays and travel.
New. Super-cheap travel deals
Fraudulent websites, which can seem professional and convincing, use images of luxury villas and apartments, supposedly offered for rent at discounted prices. Scammers require a deposit to be made which is never returned. It's usually best to use reputable travel sites or agencies, but again, the motto is 'if it's too good to be true…'
New. Holiday cancellation refund scams
This one isn't online shopping per se, but it's worth mentioning with these holiday scams. As more trips get cancelled with changes to quarantine restrictions – including recently-reimposed rules for Spain and Luxembourg – it presents more opportunities for scammers to defraud you, including:
Fake emails from 'refund claim companies'
Callers pretending to be from a holiday company or your bank
Fake social media accounts for 'holiday companies' which claim to be customer services
Be sure to question any uninvited approach and if you do need to get in contact with the travel company, independently research and use their legitimate contact details. Do not click the links in their messages or call the numbers they provide.
If your trip has been cancelled, visit MSE's Coronavirus Travel Rights guide for full information on refunds and more.
Door-to-door scams
National Trading Standards and the Chartered Trading Standards Institute have warned of several ways scammers have been reported to approach you at home. Do not open the door to these people.
Criminals offering to do shopping for elderly people
These scammers are sickeningly targeting some of the most vulnerable in society, claiming they'll go shopping on the victim's behalf. The thieves simply take money and never return.
Doorstep and driveway cleaning services
Someone might turn up at your door offering to clean your front doorstep or driveway. They may claim it's going to kill off bacteria and help prevent the spread of coronavirus, which of course is not backed up in any way.
Bogus offers of Covid-19 'home testing'
The Government and NHS are not testing for coronavirus willy-nilly at people's front doors – so if someone turns up unexpectedly claiming to be able to test you for the illness, they are bogus. Don't fall for it.
Telephone scams
Many of the scams mentioned in this guide can also take place over the phone, whether that's somebody pretending to be from your bank, selling fake items over the phone, or calling from a supposed Government body. But here's a few others to be aware of…
Fake utility companies
These people say they are calling about your essential bills, in the hope that you'll fall for it if you think you might be cut off. They might impersonate your energy company, water provider or mortgage lender, for example. If you aren't expecting a call, and you aren't sure, hang up and find the real phone number from your actual bill. If they are the legitimate company, they won't mind – if they seem to be pressuring you to stay on the line, they are almost certainly dodgy.
If you have another phone, it's always best to call back from a different number – this is because some clever scammers calling landlines stay on the phone while you try to dial and trick you into thinking you're through to the real company.
Scams targeting small businesses and the self-employed
National Trading Standards has warned that criminals are targeting small business owners too.
With more people working remotely, scammers may impersonate well-known companies and offer to repair devices or IT systems. Over the phone, they'll direct you to a malicious website which gives them access to your computer, so they can steal passwords, logins and valuable information on the hard drive.
They may also play on the authority of a chief executive or senior manager, or say they are a regular supplier, asking for urgent payment to a new account.
Financial services scams
Regulator the Financial Conduct Authority (FCA) is warning of several other known scams capitalising on consumers' short-term financial concerns.
Scammers who ask you to hand over an upfront fee
This is usually between £25 and £450 when applying for a loan or credit you'll never get. It's known as loan fee fraud or advance fee fraud. Also be wary of loan sharks – illegal lenders who often target desperate families.
'Good cause' scams
These seek your investment for supposedly good causes, such as the production of hand sanitiser, new drugs to treat coronavirus or the manufacturing of personal protection equipment (PPE).
Investment scams
Using the uncertainty about stock markets, scammers may advise you to invest or transfer existing investments, including your pension. Scam or not, the FCA, the Pensions Regulator and the Money and Pensions Service are urging savers to take their time and visit the Pensions Advisory Service website for free pensions guidance before making any decisions about their retirement savings.
Clone firms
These are scams that copy or mimic a genuine authorised firm, so they can be especially convincing (be careful). They may claim to advertise or sell insurance – in particular, life insurance.
Fake help claiming lost money
Scammers may also contact you out of the blue claiming to be from a claims management company, insurance company or your credit card provider. They say they can help you recuperate losses by submitting a claim (eg, for the cost of a holiday or an event, such as a wedding, cancelled due to coronavirus). They will ask you to send them some money or your bank details, which they can then use to steal from you.
Bank money transfers
These come in the form of cold calls, emails, texts or WhatsApp messages stating that your bank is in trouble due to the crisis. They may push you to transfer your money to a new bank with alternative banking details.
Top tips to protect yourself from scams
The best way to prevent scammers from getting their hands on your cash is to know how to protect yourself in the first place. While not all are fail-safes, here are our top tips on how to avoid being scammed:
1. Question any uninvited approaches
Be extra vigilant when approached by a person or 'company' selling something you haven't requested, signed up to or are expecting. You should be very suspicious of any requests for money upfront.
2. Don't click links in emails/texts
Similarly, don't call the phone numbers listed in the messages. If you're concerned the message may be genuine, go and independently research the phone number or website of the organisation and ask them yourself.
3. Check the URL or email address
Look at the website address, or the full email address of the sender. Even if it all looks above board, the address will probably reveal it's much less official than it first seems.
4. Look carefully for dodgy speelling and Grammer
Real banks and retailers will spend time crafting any emails they do send, and they're likely to proof them too – so bad grammar, dodgy spelling and poor punctuation are unlikely. Including a few errors can also be a tactic scammers use to weed out any potential victims who are paying too much attention.
5. Avoid the rush
Are you being told to act quickly before an offer or product runs out? Or have you been told that your money isn't safe and you need to move it to another account? When it comes to your finances, only criminals will panic you – be extremely wary if you are rushed to make a purchase or supposedly 'protect' your money.
6. Pay on credit or debit card
If you're ordering something online, it's always best to use websites you (or close friends) already know and trust. Yet if you're worried about how genuine a seller is, you have extra protections if you pay by credit or debit card. If the item is over £100 and you pay by credit card, you can use your Section 75 legal protection, which effectively means your credit card provider is jointly responsible if something goes wrong.
If you paid on debit or prepaid card, or under £100 on a credit card, you can try using your chargeback protections – this is a voluntary agreement from card providers which could also help to get your money back.
7. If it sounds too good to be true, it probably is
Finally, if a product is the cheapest you've ever seen, you're offered free advice or promised fast cash, we're sorry to say it's probably a scam. You should always independently seek proper financial guidance or advice before making changes to your pension or investing large amounts of money.
If you're worried you're being scammed and need help, first contact your bank and cancel any recurring payments, then report it to Action Fraud. Contact Citizens Advice Scams Action for more help by phone or online chat.
Join the MSE Forum Discussion
20+ coronavirus scams to watch out for and how to protect yourself
Have your say
This is an open discussion and the comments do not represent the views of MSE. We want everyone to enjoy using our site but spam, bullying and offensive comments will not be tolerated. Posts may be deleted and repeat offenders blocked at our discretion. Please contact fbteam@moneysavingexpert.com if you wish to report any comments.